Designation
Chairman, Surbana Jurong
---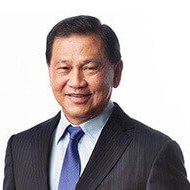 Mr LIEW Mun Leong is the Chairman of Surbana Jurong Private Limited and also the Chairman of Changi Airport Group.
Mr Liew has spent 22 years in the public service developing Singapore's Changi Airport, military airports and establishments. He was involved with the construction of Changi Airport Phase I and II from day one in 1975. He was also the CEO of two government statutory bodies, the Singapore Institute of Standards and Industrial Research (SISIR) and concurrently the National Science and Technology Board (NSTB), the forerunner of A*STAR. He was the Registrar of the Professional Engineers Board, granting engineers' licenses to practise in Singapore and regulating engineering practices in Singapore. He has also served the Executive Board of International Organization for Standardization (ISO) for which he was later elected and served as its President for one term.
In the private sector, he has another 24 years of experience leading 10 public listed companies in four countries. In 2000, he was appointed as the founding CEO of CapitaLand Limited, a public listed real estate company, which has become the largest real estate group (by market capitalization) in South East Asia, operating in over 20 countries with more than 12,000 staff. He is a Senior International Business Advisor appointed by Temasek to advise the Group on long term real estate investments in New York, London and Tokyo. Currently he also sits on the boards of Singapore Exchange, NUS Business School, Human Capital Leadership Institute, Chinese Development Assistance Council and the Singapore China Foundation. He also chairs Dymon Asia Real Estate Limited, a private equity fund investing in real estate in several key Asian cities and Temasek Foundation Nurtures CLG Ltd.
In 2013, Mr Liew was appointed as Provost's Chair Professor (Practice) (pro bono) in NUS Business School and Faculty of Engineering.
---